What gets us out of bed in the morning?—
We recently became a B Corp after months and months of rigorous verification. Not sure what that means? Certified B Corporations, or B Corps, are companies verified by B Lab to meet high standards of social and environmental performance, transparency and accountability.
In short it means we really give a damn about people and planet. It means we pay our staff well, look after their mental health (we have a qualified mental health nurse on the team), vet our supply chain and most of all – only work with clients who feel the same way as us. We also plant trees like they're going out of fashion – in fact through Ecologi we've planted 390 trees in the last 12 months – which equates to 28.18t of carbon reduction.

And we've committed to 50% of our client work being with education, not-for-profit and profit with purpose clients. Plus we also give 5% of our time per year in pro bono design work – usually for local charities – most recently for the Egg Theatre, Bath City FC and Bath Rugby Foundation.

What is small agency thinking?—
At Supple, size matters. We're small and that's just how we like it.
Staying small means the bottom line isn't our top priority. The hungry beast doesn't need constant feeding.
When a great project comes our way, even if the budget's tight, we can take it on. And if something doesn't feel right for us, we can just say 'no'.
Our size lets us focus on what really counts — impeccable work. Creating tremendous, timeless ideas that can seriously improve your business. Getting those telling design details spot on.
Small agency thinking means big ideas. And big ideas mean big impact.
What's our process?—
In a nutshell, it's based on what we call 'The Four D's' …
Digging—
First, we ask questions. Lots. Like what makes you tick; why you do what you do; what makes you different; what your audience wants; and who your competitors are.
Defining—
We use our findings to come up with a creative strategy. We hunt for what makes you different and exceptional, so we can reflect this in your vision, values, positioning and mission.
Doing—
Strategy agreed, we put our thinking caps on. We scribble away, searching for brand identities and campaigns with depth, personality and ideas. Only then do we fire up our computers.
Delivering—
Next we bring our ideas to life. Working closely with you all the way to craft a powerful visual identity. Setting out clear design guidelines that are great to use and have legs.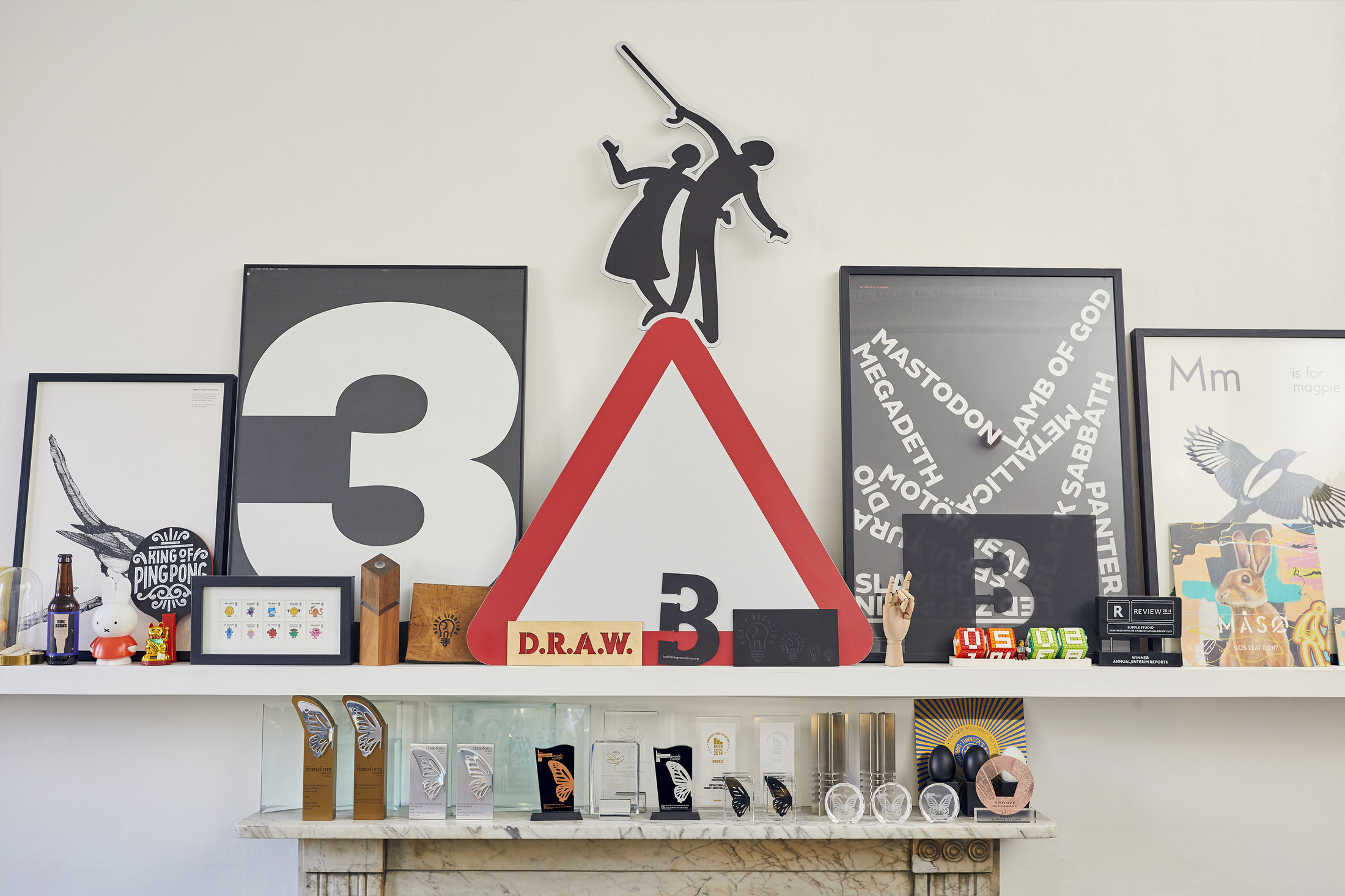 Who do we work with?—
We don't work for clients, we work with them.
The way we collaborate and rub along together is key. Because great work starts with trust, straight talking and seeing eye to eye.
We love working with organisations who love what they do as much as we do. Whatever that may be.
Here are a few of our happy clients:
Present—

AWorld, Arjowiggins Graphic Papers, Bath Rugby Foundation, Bath Spa University, Brownsword Hotels, Channel 4, Chartered Society of Designers, Childline, Clore Social Leadership, The Egg Theatre, Film4, Frahm Jackets, The Glove Factory, Grant Associates, Guide Dogs for the Blind Association, Kent College, Kistefos Museum of Art (Norway), The Leonardo DiCaprio Foundation, London Cycling Campaign, National Museums of Scotland, National Trust, Norland College, NSPCC, The Power to Change, Prison Radio Association, Project Everyone, Royal Mail, The Royal Institution, The Royal Mint, The Scout Association, The Theatre Royal Bath, Sir Ken Robinson, Somerset House, Thames & Hudson Books, The Thelma Hulbert Gallery, University of Bath, University of Bristol, University of the Arts London, University of Newcastle Australia, University of West of England, Warminster School, Watershed Bristol, World Federation of Advertisers and Youth Hostel Association.
Future—
We'd love to hear from interesting people who'd like to create great work with us.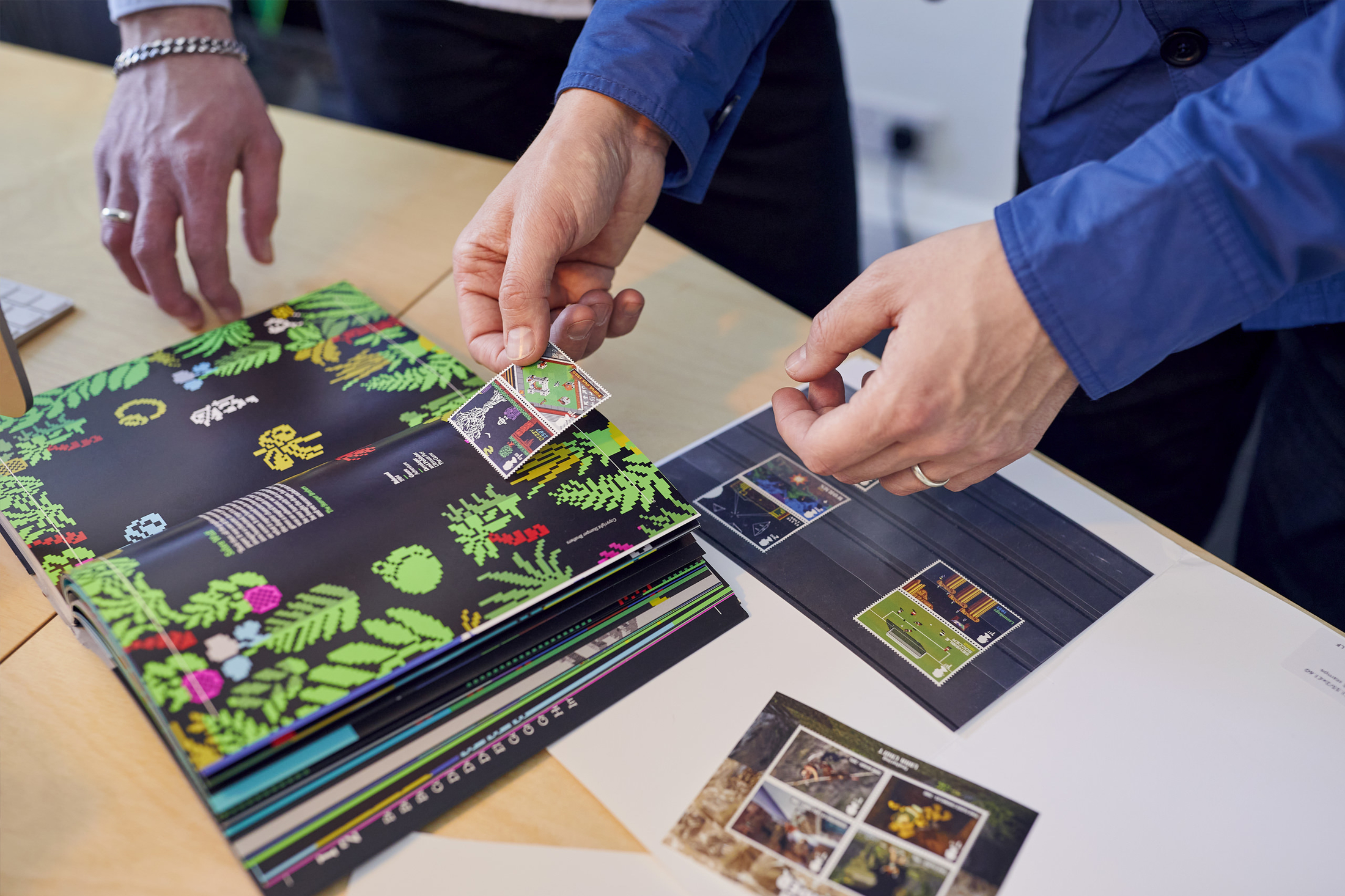 Why don't we free pitch?—
Ideas are our currency. We sweat over them. They set us apart from the next agency. So we're not about to say, "here you go, have these on us".
Free pitching undermines and cheapens what we do.
Look at it this way. Would you ask three carpenters to make you a shelf, but then only pay the carpenter whose shelf you like best? No? Didn't think so.
We ask for a pitch fee to cover our time. This means we can consider your project properly, and know you mean business.
Or better still, ask us to write you a proposal and pick us on the strength of our previous work.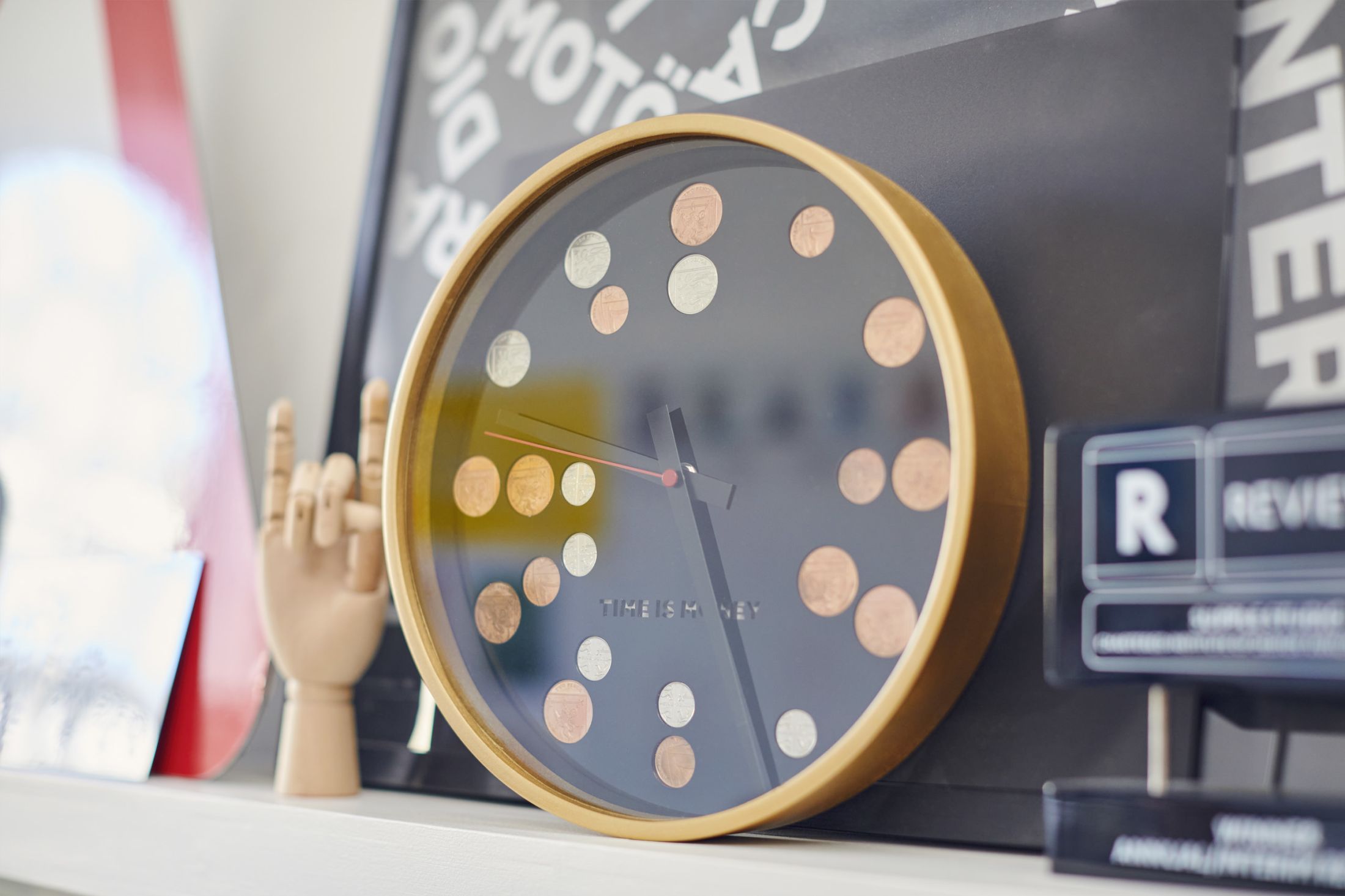 Are we any good?—
Don't ask us. Ask our peers.
The UK Top 30 Studio Rankings Survey (run by 'Computer Arts' magazine) is voted for by 60 of the UK's best creative directors. We're proud to say we've made it on to the hallowed shortlist for the past several years. In fact this year we're in at number 16 (climbing a whopping ten places on our 2019 ranking pop-pickers).
We also have an awards shelf bulging with all sorts of oddly shaped wood and metal trophies … too many to list here. And we didn't ask three carpenters to free pitch for the shelf.
We may be small, but our reputation isn't.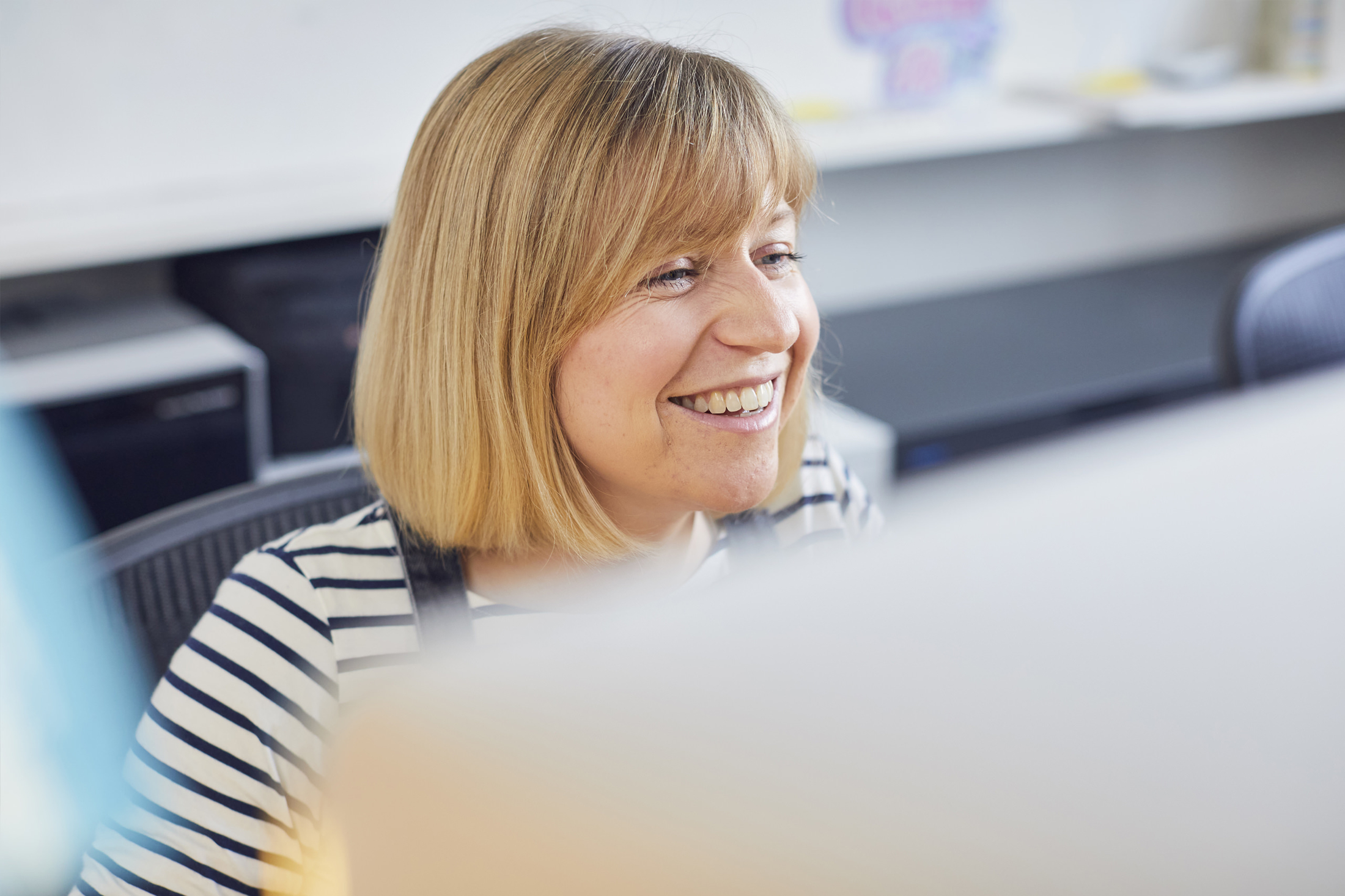 Becks Skinner, Design Director—
After graduating from Falmouth University, Becks kicked off her career at the London office of acclaimed agency The Chase. During her seven year tenure, she progressed to lead designer, contributing to their crowning as the number one UK design agency in 2012. In 2014 she switched to freelance – working with agencies such as The Partners, NB Studio and Alphabetical.
Becks' experience spans a diverse range of clients and sectors, from large international corporations to small start-ups. These include Royal Mail, D&AD, Npower, Tesco and London Zoo to name a few. Her work has been recognised by a host of creative awards schemes including D&AD, Art Directors Club. And in 2016 she was shortlisted for Design Week's Rising Star Award.
In 2017 she swapped the big smoke for the rolling hills of Bath to start a family, and in 2018 joined the Supple team. For Becks being creative isn't just a day job. In her own time she likes to turn her inventive eye to any number of projects – whether that's creating kid's illustrations, gardening, cooking or baking showstopper cakes.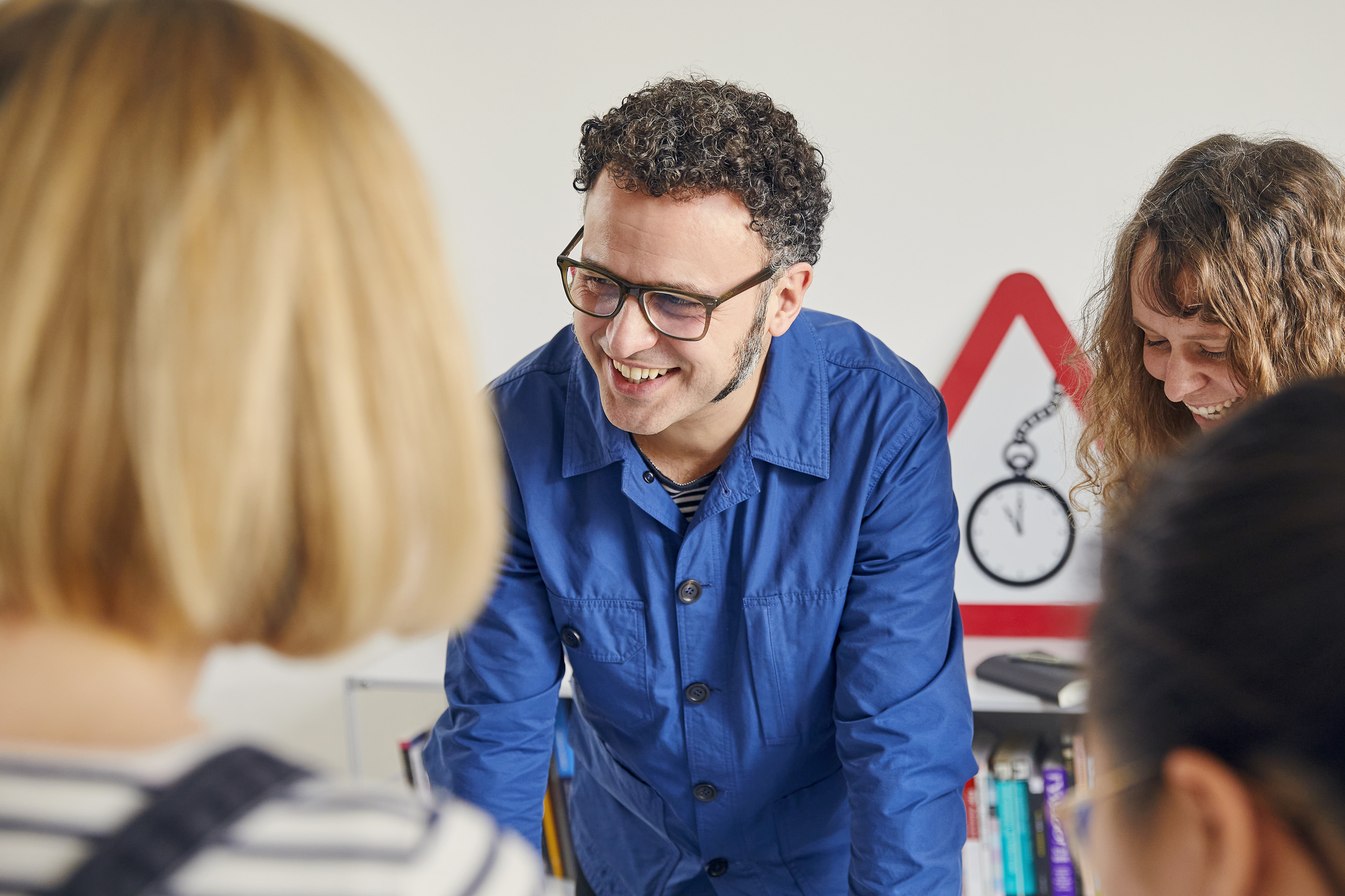 Jamie Ellul, Creative Director and Founder—
Jamie is an awarded member of D&AD and regularly sits on the judging panel of international awards schemes such as Design Week, Pentawards and D&AD. He started his design career at hat-trick design consultants in 2001 after graduating from Somerset College of Arts. Whilst at hat-trick, he worked with a diverse group of clients including Fairbridge, BBC Books, The Royal Mail, Natural History Museum, Capital Radio, Land Securities and NESTA. In 2005 he became senior designer at Blast, where he designed the award-winning Inuit Paper identity and campaign for Arjowiggins, as well as work for BBC Events, University of the Arts London and the Arts Council.
In 2007 as a senior freelance designer, Jamie worked with The Partners, 300million, fivefootsix and Wiedemann Lampe before establishing Magpie Studio in a pub in early 2008 with two of his best buddies. Magpie Studio went on to become one of the UK's most internationally awarded agencies (6th in the Design Week Creative Survey 2013) working with household names from Apple to the British Heart Foundation, Nike to Royal Mail.
In 2013 Jamie relocated to Bath where he started Supple Studio (not in a pub this time). Bringing with him a wealth of experience and an enviable list of clients including Channel 4, Royal Mail, The Royal Mint, University of the Arts London, The Royal Institution, The Chartered Society of Designers, NSPCC and National Museums of Scotland. Over the years he has written various articles for the British design press and has been awarded a plethora of pieces of wood, metal and paper – eighteen D&AD Awards (including three silver nominations, an Impact Award and two Yellow Pencils), thirteen Design Week Awards (including two winners and four commendations), two ADC NY Silver Awards and a Cannes Gold Lion for branding. But he never got himself the elusive record deal he was really after.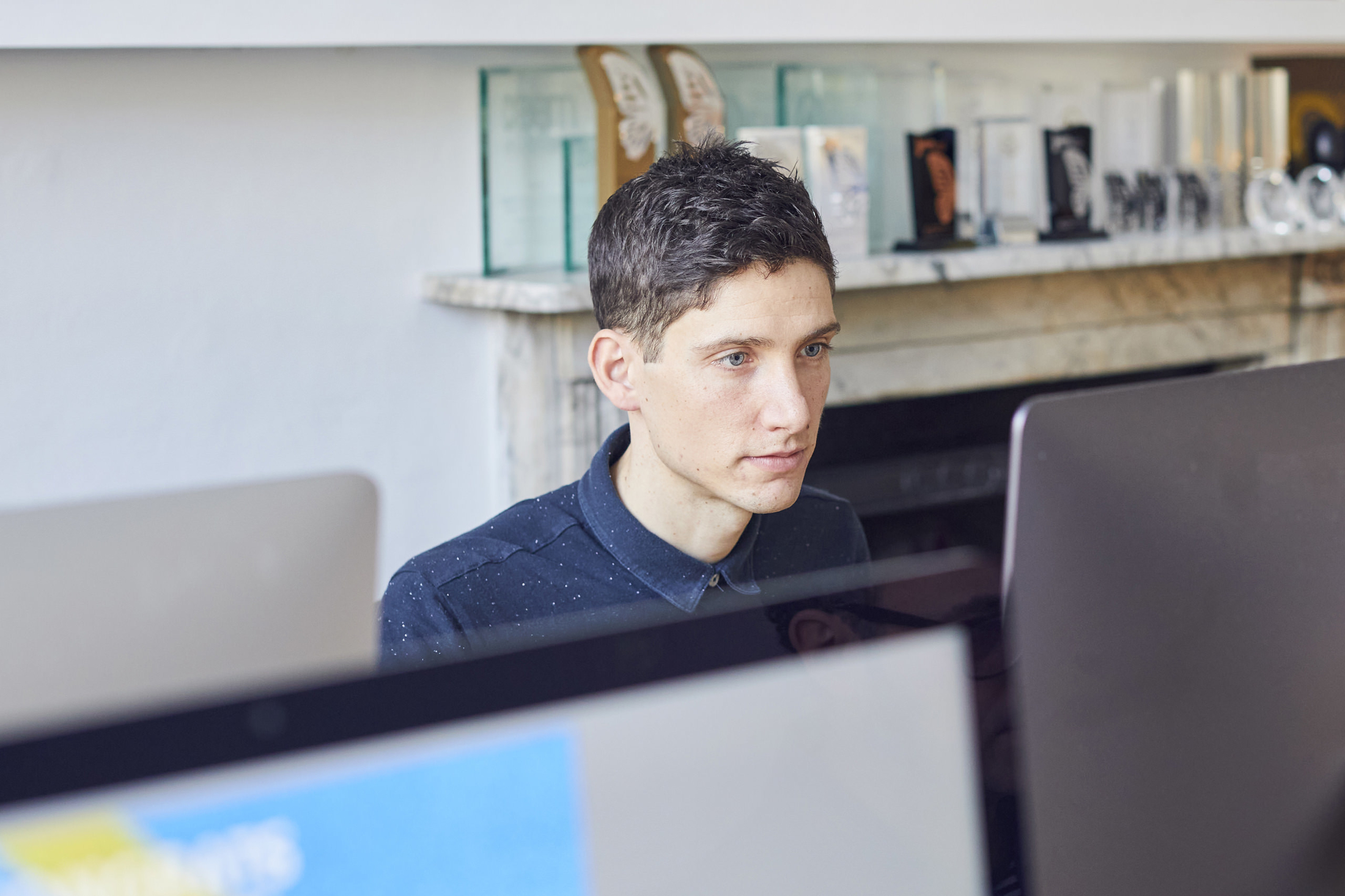 Phil Skinner, Design Director—
Phil graduated from Falmouth University with a first in Graphic Design, before landing his first job at Purpose in London. Phil went on to be selected as one of Design Week's Rising Stars and worked with a diverse range of clients from Orange to Royal Mail. His career path took him to Turner Duckworth – a London and SF based branding and packaging agency with an enviable client list such as Amazon, Green & Blacks, Levis and CocaCola – and onto Magpie Studio in 2014. At Magpie Studio he worked across a range of sectors, for clients large and small and helped contribute towards Magpie's esteemed position as the third most awarded agency in the UK (2016). Phil is a truly multi-disciplinary designer and has worked extensively across branding, print, packaging and digital; winning an armful of international design awards for his trouble.
In 2017 he relocated to Bath to join the Supple family, and to start a family of his own. A keen chef, cyclist and budding home brewer – Phil likes nothing more than winding down in the evening with an extravagant home cooked meal and a glass of his own beer.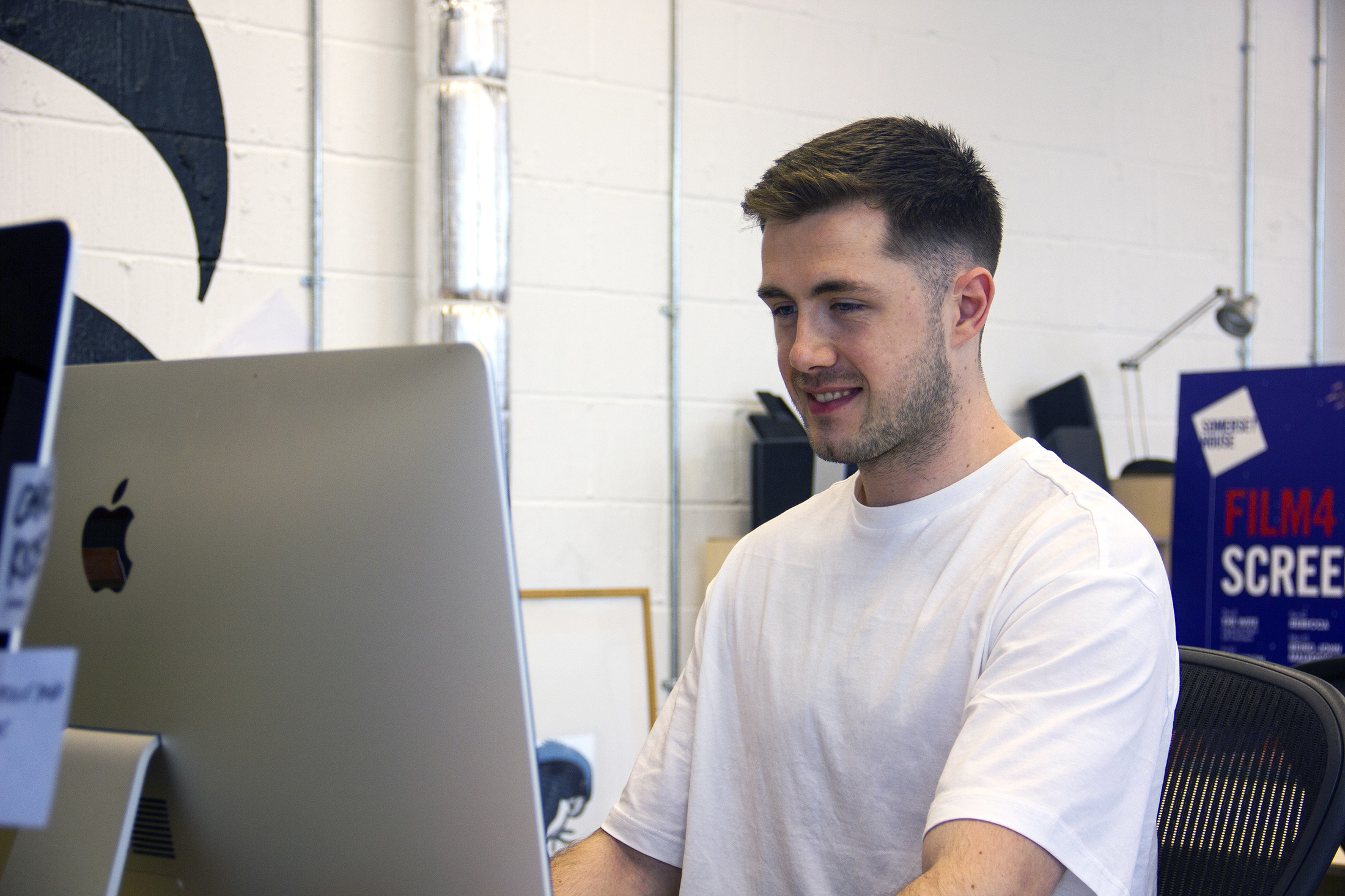 Spike Cardwell-Clarke, Designer—
Our newest member of the team, Spike graduated from the University of Central Lancashire in 2021 with a first in Graphic Design; where he was also awarded the Creative Conscious award for his campaign project 'The Naked Truth'. His bamboo-based rum packaging project nearly broke the design internet and went on to be featured on Dieline Student Week.
Prior to joining Supple, Spike was at London-based digital and branding agency Interstate; where he worked with a host of clients in the sporting sector.
His love of animation and crafted ideas is keeping the rest of us on our toes. Watch this space to see what he gets up to with Supple.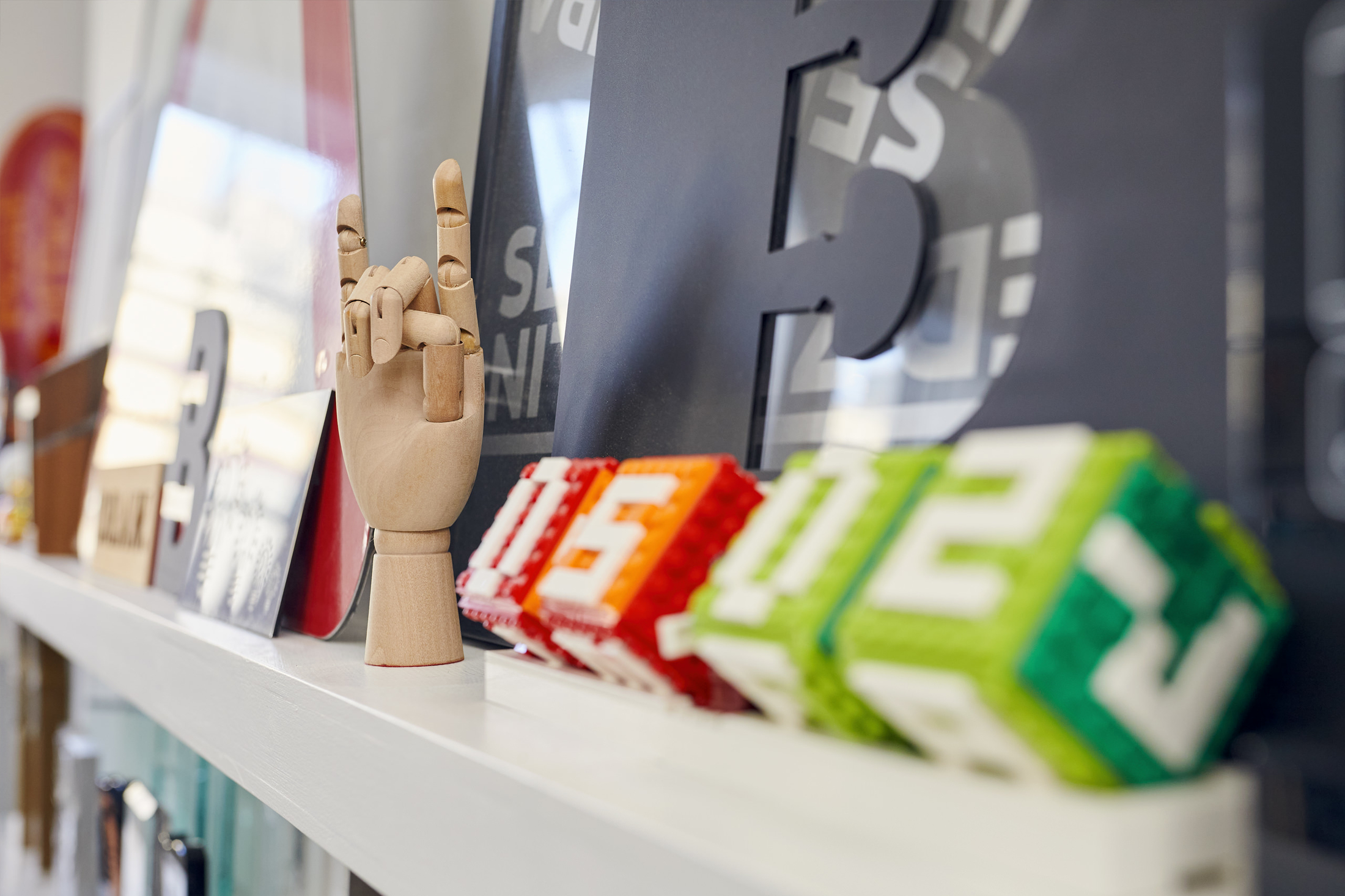 Our collaborators—
We think that being a small agency is beautiful. Partly because it means we can get together with super-talented people who make us look good. We're open about the specialists we work with (in fact, we'd go so far as to say we're proud to be associated with them). Here are some of our regulars ...